Foam Insulation Solutions
Foam insulation provides a great solution to insulate any area of your home. We provide spray and injection foam options based on the area of your home that needs insulated.
Spray Foam Insulation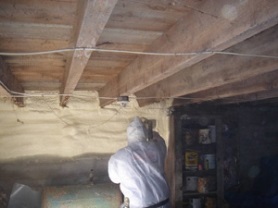 Spray foam is a perfect way to insulate and create a true air seal around your home. Spray foam insulation can be applied to almost anywhere in your home including attics, duct work, basements and crawl spaces. Spray foam can greatly reduce radiant heat loss or gain and provide greater comfort as well as a continuous moisture vapor barrier to keep your living spaces comfortable and dry.
Injection Foam Insulation
American Insulation Technologies is proud to offer injection foam. Lapolla FOAM-LOK retrofit foam is one of the safest, most long-lasting and eco-friendly wall insulation products available. Injection foam was specifically created as a thermal and acoustical wall insulation for existing wall cavities. For more than 35 years, it has been safely installed in homes, schools, hospitals and commercial buildings. It's also non-toxic and biodegradable and provides an extremely high R-value of 5.10 per inch!
In comparison to competitive brands of injection foam, FOAM-LOK retrofit foam offers:
30-40% higher resin content resulting in higher foam density
Lower water content, meaning less moisture in wall cavity
Formulated with chemical cross linkers, meaning less foam shrinkage
Contains 3 EPA Listed Antifungal Additives
Complies with the FTC consent decree for residential insulation products
Product testing that meets code requirements
Class 1 Fire Rating when tested at the code-mandated foam thickness of 4-inches
Schedule Your No-Cost Energy Audit
To learn more about our foam insulation solutions and to schedule a no-cost home energy audit, contact our team today.