Where To Insulate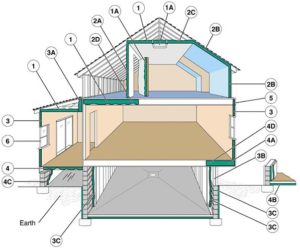 Where there are many common areas that can cause problems around your home, energy loss can occur in almost any area of your home and may not be as obvious to the homeowner. That's why our team conducts a no-cost energy audit to identify problem areas & recommend the best solution possible to fit your insulation needs and budget.
Examples of Where to Insulate
1. Unfinished attic spaces should be insulated between and over the floor joists. Your attic access door should also be insulated.
2. Finished attic rooms with or without dormer should be insulated (2A) between the studs of "knee" walls, (2B) between the studs and rafters of exterior walls and roof, (2C) and ceilings with cold spaces above. (2D) Extend insulation into joist space to reduce air flows.
3. All exterior walls, including (3A) those between living spaces and unheated garages, shed roofs, or storage areas; (3B) foundation walls located above ground level; (3C) foundation walls in heated basements, full wall either interior or exterior.
4. Floors above cold spaces, such as vented crawl spaces and unheated garages. Also insulate (4A) any portion of the floor in a room that is cantilevered beyond the exterior wall below; (4B) slab floors built directly on the ground; (4C) as an alternative to floor insulation, foundation walls of unvented crawl spaces. (4D) Extend insulation into joist space to reduce air flows.
5. Band joists.
6. Replacement or storm windows and caulk and seal around all windows and doors.
For optimal energy efficiency, your home should be properly insulated from the roof down to its foundation. In addition to insulation, consider moisture and air leakage control in each area of your house. If radon is an issue where you live, you'll also need to consider radon and radon-resistant construction techniques as you research foundation insulation options. In addition, if you live in an area with termites, you'll have to consider how termite protection will affect the choice and placement of insulation in your home.
Contact Us
Contact us today to schedule your no-cost energy audit and custom quote.